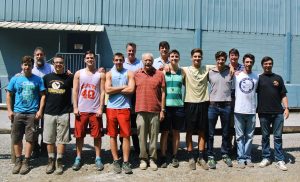 After 85 years, General Pipe Cleaners is still very much a family affair. In fact, more than 40 percent of today's General family is multi-generational, with many parents working side-by-side with their children. This summer, nine great-grandchildren of our founder Abe Silverman are working for the company, making them the fourth generation to join the team.
Believe it or not, that's not even all the kids in Abe's fourth generation!
Even our independent manufacturers' representatives reflect multiple generations representing General's tools. However, family isn't the only thing here that's been going strong for generations. Many of General's trusted drain cleaning products have found their way into the hands of sons, fathers and grandfathers alike. Respected equipment like the Handylectric®, Super-Vee®, Sewermatic™ and Speedrooter® cable drain cleaning machines have been a preferred choice amongst drain cleaning professionals for decades.
Customers trust tough, reliable General equipment to enhance profitability. Some individual machines have served their owners for two or three decades!
Connect with the Drain Brains
Facebook – Twitter – LinkedIn – YouTube – Google Plus