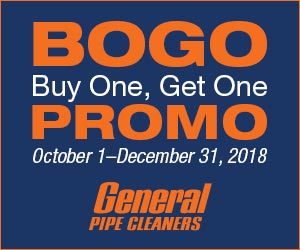 Fall 2018 Promotion
Take advantage of General Pipe Cleaners Fall promotion – a BOGO Promo – on selected rental drain cleaning machines, water jets, and video pipe inspection systems. From October 1 through December 31, 2018, if you buy any of 8 different General products you get a premium item FREE. Buy one, get one! You've got 92 days and 8 different ways to take advantage of this offer.
For the Rental Industry
In survey after survey, rental dealers have consistently rated General Pipe Cleaners their most preferred brand of drain cleaning equipment by a wide margin. Durability and dependability, combined with ease-of-use lead to many happy return rental customers. Packed with safety features, our rugged, reliable cable machines have a solid reputation for reliability. And General's Flexicore® cable sets the industry standard for dependability, quality and toughness. This page illustrates our job-tested tough drain cleaners. Click on a machine you're interested in for more information.
Do You Need Help?
Check out our tool selection guide or chat with a Drain Brain! We can help you by answering any questions about our products you may have.