Toilet plungers have come to the rescue more than we'd all like to admit. From unclogging the most blocked of toilets to restarting a grown man's heart, toilet plungers are this world's most unlikely hero.
While the typical use of a toilet plunger or our VersaPlunge™ is to clear blockages in drains lines, pipes and sewer lines, plungers have been known to help save lives.
In 1988, a 65-year-old man went into cardiac arrest in his home. His wife and son, not knowing how to administer CPR, grabbed a toilet plunger and used it to keep his heart pumping until an ambulance arrived. The man, who made a full recovery at San Francisco General Hospital, said this was the third time his family had used a toilet plunger to save his life.
Over thirty years later, a new study presented at a meeting of emergency medical services directors revealed data showing that using a plunger-like setup results in increased chances of recovery for resuscitated patients. The lead doctor who treated the man later wrote a letter explaining the miraculous story to the Journal of the American Medical Association called, "CPR: The P stands for plumber's helper."
A Century of Expertise: General Pipe Cleaners' Commitment to Innovation in Drain Cleaning
As a leading manufacturer of high-quality drain cleaning equipment, General Pipe Cleaners knows a thing or two about helping plumbers and drain cleaners. From high-powered drain cleaning machines to specialized drain cleaning cables, we've been at the forefront of innovation.
With nearly a century of knowledge of market needs and superior equipment reliability, General Pipe Cleaners has forged a robust reputation for turning "good ideas" into "innovative drain cleaning tools and products" for decades. Our range includes advanced sewer cleaning equipment, sectional machines, and hand tools designed for every kind of blockage, from grease to stubborn obstructions.
Plungers and Beyond: Addressing Drain Challenges
While plungers, including our VersaPlunge™, remain a household staple for minor blockages, the vast spectrum of drain challenges necessitates a broader toolkit. For tougher issues like clogged sinks or tubs, a specialized drain cleaning machine with the appropriate cable becomes crucial. For more stubborn clogs in toilets, tools like the closet auger prove indispensable.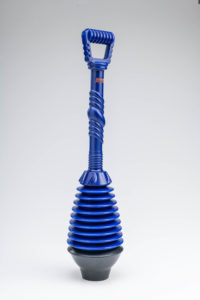 Delving into more complex blockages, especially in main sewer lines, it's evident that advanced tools such as the jetter hose and root cutting equipment are invaluable. As drain cleaning technology advances, equipment options, whether drum-based or sectional, are designed for efficiency and swift restoration of water flow.
Maintenance remains paramount in the world of plumbing. Regular upkeep of drain cleaning tools, from plungers to advanced jetters, ensures longevity and peak performance. To explore the extensive realm of drain cleaning, turn to General Pipe Cleaners, where we've equipped professionals for nearly a century.
Read the full story about how the toilet plunger influenced a new way of looking at CPR here.
Contact the Drain Brains at, 800-245-6200, or learn more on our website, www.drainbrain.com