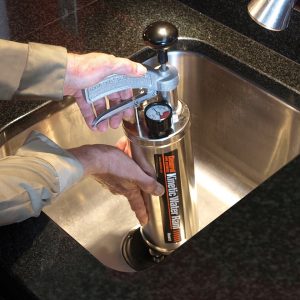 Kids do the darndest things—like stuff pea gravel into new underground conduit for residential outside lighting.
That's what Bob Shumway, owner of Shumway's, a maintenance and landscaping service in Rockford, Ill., discovered when trying to snake electrical wiring through the buried pipe.
"I initially tried fish tape," Shumway recalls. "But, I couldn't get past the pebbles!"
That's when Shumway got creative and grabbed his lightweight, compact Kinetic Water Ram™ from General Pipe Cleaners.
Innovative Tool, Innovative Answer
"The conduit ran a foot underground and then bent 90 degrees upward for the future fixture," he notes. "The whole run traveled about 100 feet from the customer's house."
So, Bob Shumway plugged-up the pipe on the house side and filled it with water at the other end.
Returning to the customer's house, he pumped up his Kinetic Water Ram, quickly removed the pipe plug and attached General's tool.
"I squeezed the trigger and all the dirt and gravel just flew out of the other end," he laughs. "It saved me lots of time and aggravation, and it saved the customer lots of money!"
Shumway quickly ran the wiring and capped the outside end for fixtures. Problem solved!
Quick, Professional Results
"I inherited my Kinetic Water Ram from my dad," Shumway says. "It's probably several decades old, and it still works great!"
General's innovative tool quickly and cleanly clears clogged sinks and showers, toilets and tubs. The Kinetic Water Ram easily clears hair, rust, grease, sediment and scale from lines from 1-1/4″ up to 4″ in diameter. It's especially effective clearing slow draining tubs when the stoppage is on the far side of a drum trap, or through narrow lines in trailer homes that can be hard on a snake. It gives maintenance, plumbing and drain cleaning professionals like Shumway a clear competitive edge.
"Without our trusty Kinetic Water Ram, we would have been forced to dig-up and replace the whole line," Shumway says.
General's tool unleashes a powerful burst of compressed air that drives a shock wave (kinetic energy) through water at 4,700 feet-per-second, instantly breaking up the blockage. There's no pressure buildup within the system, either. The shock wave bypasses stacks and vents. 98 percent of the force is directed down the line and only 2 percent is directed against pipe walls.
Amazing Adaptability
Bob Shumway really values the tool's versatility. "We even used our Kinetic Water Ram to unplug a swimming pool drain," He recalls.
Debris had clogged the bottom drain filter inlet, so Shumway removed the intake hose from the filter, connected General's tool and blew out the blockage from the pump side.
"I didn't have to dive to the bottom of the pool to clear the inlet," he smiles.
General's product comes with a flexible cone for 1-1/4″ to 4″ diameter lines, caulking hose and five tapered valves for sealing 1-1/4″ through 4″ openings.
Shumway especially likes the tool's Schraeder valve for use with external air sources.
"We carry a 10-gallon portable air tank to speed work on difficult blockages," he adds.
An optional toilet attachment screws onto the front of the Kinetic Water Ram, permitting firmer positioning in the bowl like a powerful plunger. Additional options include a carrying case, 6″ rubber cone, expansion plugs, universal faucet adapter, water supply hose and check valve.
For four decades, Shumway's has forged a reputation for prompt, professional service with minimal disruption.
"Many customers love how fast we handle their problems," Shumway says. "Kinetic Water Ram lets us do multiple jobs daily with time to spare."
"I'd love to retire my old Kinetic Water Ram," he concludes. "But we can't part with it!"
Connect with the Drain Brains
Facebook – Twitter – LinkedIn – YouTube – Google Plus