Q: What happens when Philadelphia plumbers need drain cleaning tools and talent?
A: They call Michael Williams at Just Drains LLC.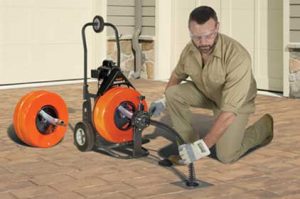 A third-generation drain cleaning pro, Williams built a unique business model around subcontracting drain cleaning services to over 350 regional plumbers.
"The US drain cleaning industry is humongous," he notes. "but not every plumber has the tools, or wealth of knowledge, to clear clogs properly. That's where we come in."
The right tools and talent made Just Drains, Williams declares with palpable pride, "the number one drain cleaning company in Philadelphia."
With six expert crews, Just Drains serves southeastern Pennsylvania, from the Delaware River to Harrisburg, Pa., a sizable swath of territory. So equipment reliability, Williams insists, remains critical.
That's why Michael Williams trusts General Pipe Cleaners to maintain his robust reputation.
Tough General Tools Help Forge Market Leadership
"General equipment is durable and takes a beating," he says. "We use our General tools 24/7, 365 days a year, and they don't fail us."
They last, too.
"I bought my trusty old Sewermatic™ in 1980, and it can still handle 30 to 40 root jobs a week," Williams claims. "It's got great torque, just like General's line of Speedrooters®."
With plenty of raw power for long, tough tasks, the field-proven Speedrooter range blends rugged reliability with optimal control and ease-of-use.
The latest version, Speedrooter XL®, has long distance clog-busting power. With easily interchangeable drums, a powerful 3/4 hp motor and a rugged, easy-to-maneuver frame, so you can drive the cable down long runs and clear tough stoppages.
General's heavy duty Flexicore cable offers superior kinking resistance and unequalled strength with the right amount of flexibility. It's so tough, it carries the best warranty in the business, one-year protection against breakage.
"General equipment lets us power through tough problems that our competitors walk away from," Williams asserts.
Right Equipment Mix Tackles Tight Tasks
For most inside jobs, though, Williams favors two General classics: the Super-Vee® and Mini-Rooter®.
The handheld Super-Vee easily unclogs sink, tub and laundry drain lines up to 3 inches in diameter. With a dependable motor, durable aluminum drum and tough Flexicore cable, Super-Vee withstands the most demanding small line tasks and keeps working. Convenient, quick-change cable cartridges also make Flexicore cable switching clean and easy.
"My personal Super-Vee is more than 20 years old," he states. "And as I like to say, 'Pound-for-pound, Super-Vee gets down!'"
Easy to transport and maintain, the lightweight Mini-Rooter unclogs drains from rooftop to basement, including kitchen, bath and laundry lines.
General currently offers two models: the Mini-Rooter Pro® and Mini-Rooter XP® with power cable feed, both with wheels and folding handles for easy maneuverability, transport and storage.
"Mini-Rooter doesn't have a big footprint, so it gets you into a lot of tight spaces," Williams observes. "It's durable, powerful and economical. It's a great 'first machine' for anyone starting out in drain cleaning."
And it saves time and trouble. Detach the drum in seconds to boost portability or to change Flexicore cables with minimal mess and downtime.
"It's really easy to swap-out drums all day long, if necessary," Williams smiles.
The drum holds up to 75 ft of 3/8-inch or 50 ft. of 1/2-inch Flexicore cable for 2-inch, 3-inch and most 4-inch lines. For small drain work, the optional J-Drum handles thinner, more flexible cables. And the optional Power Cable Feed drives and retracts cable at up to 16-feet-per-minute.
"We use Mini-Rooters every day," Williams notes.
The Best Advertising
"Our customer trust factor is phenomenal – through the roof," Michael Williams concludes, noting that Just Drains gets, "85 percent of its business by word-of-mouth".
"That's the best advertising any business can have," says Williams.
And when pairing General Pipe Cleaners and Just Drains LLC, he quickly adds, "We're two leaders, side-by-side, both at the top of our markets. General is the industry name everyone salutes!"
Connect with the Drain Brains
Facebook – Twitter – LinkedIn – YouTube – Google Plus