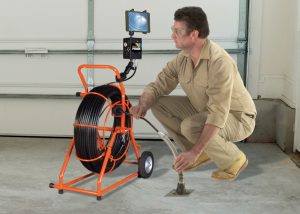 It all started with a clogged sewer line at a Tulsa, Okla., residential property. The frantic renter immediately called a local plumber, who demanded $1,500 to dig-up and repair the problem.
But the landlord had other ideas and, instead contacted Chris Wade, owner of Precision Plumbing.
For 20 years, Precision has  guarded an outstanding reputation for professionalism, dependability and honesty throughout Tulsa's metro area.
"We're not fly-by-night, 'school house' plumbers," Wade says."We get 100 percent of our business by word-of-mouth. So, our six crews always make superior service and customer satisfaction our priorities."
That's why Wade places a premium on the equipment Precision uses. "When you're safeguarding a reputation for quality work, you choose tough, reliable tools for the job," he adds. "And we only trust equipment from General Pipe Cleaners!"
Right Equipment Mix Tackles The Task
Using one of their Gen-Eye® video inspection systems, Wade's crew instantly spotted the true trouble – tree roots. Then, using a 4-inch cutter on their Speedrooter® power drain cleaner with automatic feed  from General, Precision's pros quickly cleared the line.
"We saved the customer around $1,300 and didn't dig up a darn thing," Chris Wade laughs.
Superior Accuracy & Versatility
For matchless accuracy in tracking trouble, Precision Plumbing also counts on their new Hot Spot® Pipe Locator from General Pipe Cleaners.
The easy-to-use Hot Spot offers durability and reliability. General's pipe locator lets plumbing and drain cleaning professionals precisely pinpoint problems without unnecessarily digging up costly pavement or expensive landscaping to find breaks or blockages.
Superb for all commercial and residential needs, versatile Hot Spot eliminates guess work when inspecting and tracing sewer and drain lines, septic tanks, active power lines and buried utilities.
"It saves us so much time on water lines, gas lines, power lines – you name it," Chris Wade claims. "It's always right dead on the nose and still works with our older Gen-Eye equipment!"
Common workplace abuse can't compromise General's tough tool, either. Hot Spot also offers superior battery life, more than twice that of competitive locators. The automatic shutdown feature saves power, and the USB port lets users upgrade software or grab screen captures.
Drain Cleaning Power For All Tasks
Once they locate blockages, Precision's pros count on reliable drain cleaning machines from General.
Great for long, tough jobs, the latest Speedrooter 92® blends rugged reliability with optimal control and ease-of-use. It's great on tree roots. The field-proven machine features a braced frame at key stress points, drum design for longer bearing wear and Flexicore® cable – the industry standard for toughness.
Heavy-duty Flexicore cable blends superior strength and kinking resistance with just the right flexibility. It carries the best warranty in the business, a one-year protection against breakage.
Precision Plumbing's equipment array also includes General standards like the Mini-Rooter® and Super-Vee® cable drain cleaners.
Easy to transport and maintain, Mini-Rooter unclogs drains from rooftop to basement, including kitchen, bath and laundry lines. It carries 75 feet of 3/8" or 1/2" Flexicore cable, yet weighs around 60 pounds.
The handheld Super-Vee® easily unclogs sink, shower, toilet, and laundry drain lines up to 3 inches in diameter. With a dependable motor, durable aluminum drum, and tough Flexicore cable, it withstands the most demanding small line jobs and keeps working year after year.
Consumer Service Boosts Bottom Line
Chris Wade learned his trade, and personal ethics, from his dad, also a plumber.
"I refuse to let unreliable equipment leave us in bad spots," Wade concludes. "Your reputation stays with you, and you don't want to mar that."
That's why he trusts General. "It's great equipment: I won't buy anything else!"
Connect with the Drain Brains
Facebook – Twitter – LinkedIn – YouTube – Google Plus