Hot Spot® Transmitter 5 Watts - 4 Frequencies
Locating buried utilities used to be tough. Not anymore! With the powerful 5 watt Hot Spot Transmitter, location is easier than ever. More power means more signal to locate. Choose one of 4 frequencies – 1KHz, 8KHz, 33KHz or 65KHz. You can select the frequency and power that best suits your application.
Locate via direct connection using the cords and ground stake. Simply attach the transmitter leads to both ends of the pipe, or if the other end of the pipe is not accessible, use the ground stake to complete the circuit. Or place the transmitter over the pipe and use induction mode, or place the optional clamp around the pipe to energize the line.
Features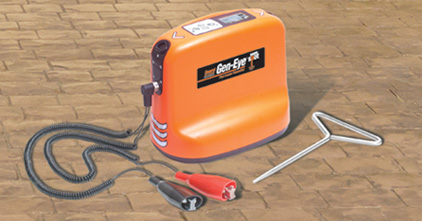 The transmitter's LCD graphic display with auto backlight lets you quickly check connectivity and line resistance to make sure you're transmitting efficiently for a stronger signal for easier tracking and locating. The display also indicates power output, frequency, and battery level.
In tandem, the Hot-Spot pipe locator and the matching Hot Spot Transmitter finds buried utilities quickly and easily. The combination of the Hot Spot pipe locator and Hot Spot transmitter takes the confusion out pipe and utility locating. They are so easy to use, you'll find locating to be faster and more productive. That means more profitability for your business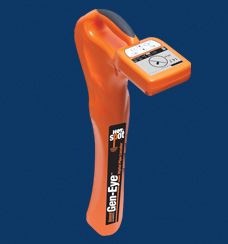 Hot Spot pipe locator makes locating easier than ever. It's on-screen icons lead you right to your target, without the long learning curve.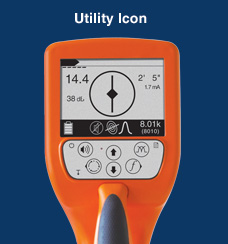 Utility Icon indicates buried utilities or active lower lines. Circle the energized pipe or active power line until the diamond appears on the screen.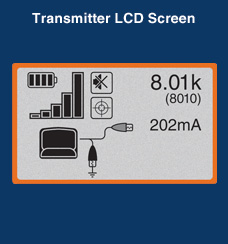 Hot Spot LCD graphic display with auto backlight lets you keep track of everything from battery level to connectivity and line resistance to make your locating job easier.
More Power
Powerful 5-Watt output with 5 output levels makes locating utilities easier.
Expanded Frequencies
Locates four line frequencies – 1KHz, 8KHz, 33KHz and 65KHz (65KHz at 1 watt max).
Simple, Menu-based User Interface
No need for multiple screens. Easy-to-access menus make it easier to use than other models.
Easy-to-read Display  
Icons indicate a quality connection and power settings. Auto backlight lets you locate in dimly lit areas.
Superior Battery Life
Lasts approximately 100+ hours – more than twice as long as other brands. Automatic shutdown feature saves power.
Made in U.S.A.
Specifications
Line/Utility Frequencies:
1KHz, 8KHz, 33KHz, 65KHz
Output:
5 Watts with 5 output settings
Weight:
8 lbs./3.5 Kg
Batteries:
10 D-cell alkaline (Approximately 100+ hours of life)
External Ports:
Mini USB
Dimensions:
10" H x 12" L x 8" W (25.4 cm x 30.5 cm x 19 cm)
Operating Temperature Range:
-4° F to 122° F (-20° C to 50° C)
Do You Need Help?
Check out our Pro Tool Selection Guide or chat with a Drain Brain! We can help you by answering any questions about our products you may have.