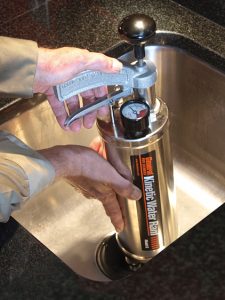 A clogged kitchen sink at a church prompted a routine call for drain cleaning help.
That's when local plumbing professional Sylvan Tieger rode to the rescue – with something different.
With nearly five decades as a plumber, including three years of US Navy service, Tieger offers a full range of plumbing, drain cleaning, fire suppression and emergency services to the New York City area's commercial, residential and institutional markets.
He also prides himself on getting to the root of his customers' problems. And he quickly discovered more serious trouble – the total stoppage of a 4-inch stack.
"The 4-inch soil line was blocked below the church's kitchen sink on the main floor," Tieger recalled. "So, the sink was receiving discharges from five floors above."
That allowed waste to fill the sink every time a fixture above was used. "It looked like a soft stoppage, and a cable machine probably wouldn't have worked," he added. "That's when I decided to test the power of my Kinetic Water Ram."
Powerful Drain Cleaner Tool Clears Tough "FOG" Clogs
The lightweight, compact Kinetic Water Ram from General Pipe Cleaners safely, quickly and cleanly clears clogged sinks, showers, toilets and tubs with kinetic energy.
Kinetic Water Ram unleashes a powerful burst of compressed air that drives a clog-busting shock wave through water at 4,700-feet-per-second. It effectively clears hair, rust, grease, sediment and scale from lines from 1-1/4 inches to 4 inches in diameter.
"This was a bad blockage," Tieger noted. "And it frankly took me a couple dozen times before I finally heard the 'whoosh' that, believe it or not, cleared the entire 4-inch stack stoppage!"
Results like that made him a believer. "This one job paid more than the tool cost me," he revealed.
"Now I got one Kinetic Water Ram for each of my three crews, my home and my daughter," he laughed. "On what I call 'F.O.G.', or fats, oil and grease, it's my favorite, favorite tool!"
Matchless Speed & Efficiency
General's innovative drain cleaner tool gave Tieger a competitive edge.
For instance, one national franchise competitor, despite repeated efforts, couldn't clear a shower drain. "It was probably another soft stoppage," he noted. "And the clog just closed back onto itself after the competitor snaked it."
But on the first try, Tieger's Kinetic Water Ram quickly eliminated the blockage. "Compared to the competition, it made me look really good!"
Speed and efficiency like that also lets Tieger tackle multiple drain cleaning tasks, as he discovered when facing several simultaneous sink stoppages in a post office lavatory.
"From transport, to set-up, to clog-clearing, it's about 50-times faster than cable machines," Tieger chuckled. He simply plugged the overflow openings and, "bam, bam, bam," cleared one sink after another with the Kinetic Water Ram.
"Most customers don't care if you suck up the water with a straw," Tieger winked. "They just want working sinks!"
Versatile & Easy To Use
General's pioneering product is especially effective clearing slow draining tubs when the stoppage is on the far side of a drum trap, or through narrow lines in trailer homes that can be hard on a snake.
"I use it for all my tub stoppages," he added. "Plus on all sorts of sinks, basins and floor and roof drains."
There's no pressure build-up within the system, either. The shock wave bypasses stacks and vents. In fact, 98 percent of the force is directed down the line and only 2 percent against pipe walls.
The compact, hand-held wonder is easy to transport. "Unlike bulky cable machines, taking the Kinetic Water Ram up and down stairs is a snap!" The Ram weighs just 10 pounds.
It's really easy to use, too.
Simply pump the Kinetic Water Ram to the desired pressure, plug overflows to prevent splash back and firmly position the flexible cone over the drain opening. One snap of the trigger unleashes a powerful shock wave, usually clearing clogs with amazing speed.
General's drain cleaner tool comes standard with flexible cone seals from 1-1/4 inches to 4 inches in diameter, caulking hose and five tapered valves for sealing openings from 1-1/4 inches through 4 inches. A Schraeder valve for use with an external air compressor when clearing difficult blockages is also provided.
An optional toilet attachment screws onto the front of the Kinetic Water Ram, permitting firmer positioning in the bowl and acting like a powerful plunger.
The Bottom Line
"I judge how good a tool is by how fast it pays for itself and how long it lasts," Tieger concluded. "And with Kinetic Water Ram, General has one hell of a great product!
For more information on this easy to use, powerful drain cleaner tool, watch a video and learn all about the Kinetic Water Ram here.
Call the Drain Brains® at General at 800-245-6200, or email [email protected] if you desire more details. To learn even more on the Kinetic Water Ram from General Pipe Cleaners as well as to see features and accessories, please visit this product page.
You can find where to buy the Kinetic Water Ram at a retail location near you on this page of our website.