If you work in the plumbing and drain cleaning business and have the task of hiring new talent, then it should come as no surprise that our country is in the midst of a serious skills gap in the trades. There are many factors to blame for this, such as the stigmatization of blue-collar labor, a de-emphasis of trades being taught in school and the misconception that a bachelor's degree is the only path for young people looking for high-paying jobs after high school. Regardless of what the cause may be, the fact of the matter is that there are millions of skilled labor positions, many of which are paying $50,000 a year or more, going unfilled. While we wait for the pendulum to swing back in the other direction, there are many ways professionals in the plumbing and drain cleaning industry can help reshape the perception of these career paths. When speaking to high schoolers interested in the trades or prospective new employees at your plumbing/drain cleaning business, here are four talking points that might get them more excited about this wonderful line of work.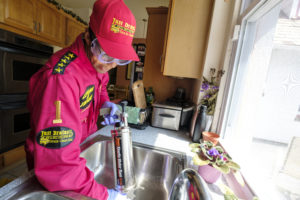 1. Careers in plumbing/drain cleaning are some of the highest-paying contractor jobs on the market.
According to a survey by the International Institute of Sewer & Pipe Cleaning, "The pay for a drain cleaner can vary from $12 to $43.50 per hour, with the average being between $16.83 and $22.81 per hour, depending on the level of experience and region of the country. This equates to $25,000 to $90,000 annually." While it is true that people with a bachelor's degree are more likely to be employed and earn higher salaries than those without a college education, the costs for training and certification to become a plumber or drain cleaner are significantly less expensive than the average cost for college tuition. Also, there are many apprenticeship programs that not only provide real-life training with licensed plumbers, they also afford individuals the opportunity to earn money while they learn the trade.
2. Plumbing and drain cleaning jobs are recession-proof careers.
Unlike most careers in the white-collar sector, plumbers and drain cleaners are not vulnerable to any sort of economic downturn. Even in bad economic times, there will always be a busted pipe or broken toilet. And these are jobs that will never be outsourced overseas! We spoke with plumber Michael Williams of Just Drains LLC in Philadelphia, who shared a similar thought on this point. "If you go into drain cleaning, you will never be without work," Williams says. "They need this on the moon. This is something that will never be replaced. They will always need drain cleaning."
Watch the entire interview with Michael below:
3. For plumbers and drain cleaners, every day is different!
Unlike most office jobs, plumbers and drain cleaners are never confined to the same four walls every day. Each day on the job provides a new jobsite, new projects and new people. And the daily change of scenery can also be good for business. Moving from jobsite to jobsite allows you to make new contacts that could lead to better job prospects down the line.
4. Starting your own business is relatively inexpensive.
Another benefit to pursuing a career in plumbing and drain cleaning is the ability to be your own boss. In the same interview, Michael Williams mentions how he started his business with one truck and a handful of machines. Today, Just Drains LLC is an area-leading drain cleaning company with six expert crews that serves Southeastern Pennsylvania, from the Delaware River to Harrisburg. While there are marketing, equipment and transportation costs to consider, a drain cleaner can go into business with just a few quality machines and a reliable vehicle.
"I will tell anybody that I've always been considered the underdog," Williams says. "And I don't mind being the underdog, because the underdog always comes out ahead of the pack."
There is still a great deal of work to be done in raising awareness for all the great career opportunities in the trades. However, sharing information like the facts we discussed in this blog post is a great start in your efforts to recruit the next generation of plumbers and drain cleaners. Do you have a Facebook or LinkedIn account and profile? Feel free to share this post on your page, but we'd appreciate if you'd link back to this post so your friends and family can read it!
For more information, contact the Drain Brains® at General at 800-245-6200 or by email – info@drainbrain.com. You can also communicate with us by using our handy form too.