Creatively blend proven technologies with intimate market knowledge. Add a dash of innovative thinking – and a business can really grow fast!
Just ask Preston Hall of All Pro Water-Flow. In less than two years, the Colorado-based entrepreneur single-handedly revolutionized how the world cleans RV, aircraft and boat holding tanks. And that's resulted in authorized service centers and training operations in six states – with more constantly on the way.
An RV owner, Hall grew seriously and personally concerned with inadequate, unsanitary chemical treatments for vehicle holding tanks. As a professional plumber for 25 years, he then used video inspection equipment to confirm his worst fears.
Forget foul odors. Hall discovered that conventional chemical cleaning failed to remove the appalling risks of dangerous disease contamination.
"Our cameras clearly proved that chemicals don't do the job," he said. "What we saw of typical RV holding tank sanitation was absolutely horrid!"
Choosing the Right Equipment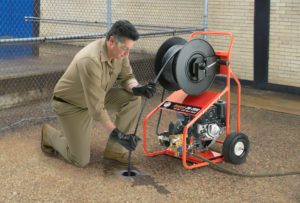 So he marshaled his professional and technical experience to devise a safer, more competent and thorough solution. And that launched what Hall claims is "the biggest untouched service industry in the United States in 50 years."
Working with General Pipe Cleaners, Hall incorporated General's proven "Jet Set" technologies with his proprietary equipment to found All Pro Water-Flow.
General's gas- and electric-powered water jets, with on-demand Vibra-Pulse®* for greater nozzle thrust around tight bends and down long lines, have long offered professional drain cleaners indispensable weapons against grease, sediment, ice and other soft blockages.
With a wide variety of "Jet Set" models available, Hall admired the company's reliable, rugged technology, transportability and safety features. And when All Pro started, he chose General's J-2900™ gas-powered water jet – the model he originally selected for his first plumbing business – as his "power" source.
Reliability Proves Critical
"At that point, we had successfully used General equipment for more than 15 years," Hall recalled. "So it was natural for us to pick products we already trusted. In fact, our very first J-2900™ is still going strong!"
An economical alternative to larger gas-powered jets, the J-2900™ is lighter and more maneuverable – yet maintains the same pressure and flow rate as other jets in its class.
Power comes from a proven 11 hp Honda engine connected directly to a 3000 psi, 4 gal/min triplex pump. The 300 ft capacity hose reel with reel brake and brass swivel is mounted on a rugged, heavy duty frame with two pneumatic tires for maximum stability and easy handling.
That proved the launching pad for Hall's new business. He then developed a dozen custom adapters – all patent-pending – and, in close concert with General, adapted the J-2900™ for All Pro's proprietary cleaning system.
"We employ a variety of special hoses and nozzles for various holding tank cleaning jobs," Hall said. "But the J-2900™ is the power behind the technology we developed."
His relationship with General also proved instrumental to All Pro's "branding" efforts: uniform equipment, training, presentation and quality control.
"They've been great!" Hall exclaimed. "They're right on top of everything, helping us plan and streamline equipment packages at the core of our business."
Environmentally Sound Solution
With All Pro, RV owners need no longer rely on chemicals to rid holding tanks of odors and disease-causing waste material.
"We've proven that friction from water flow, under carefully regulated pressure through our custom nozzle designs and General jets, thoroughly cleans holding tanks," Hall pointed out.
He also notes that harsh chemical cleansers eventually enter municipal sewage treatment plants. So All Pro's proprietary approach makes environmental sense, too.
"Depending on holding tank size, we hydro-jet in fresh water at thousands of pounds per square inch," he said. "And everyone knows that clean water is better for the environment than chemicals are!"
And Hall contended that simply "hosing out" holding tanks at 40 to 50 psi won't eliminate disease-causing contamination, either. "You need proper technology, equipment and training – and that's what we provide."
Promising, Profitable Potential
Hall expects continued All Pro growth – especially in the RV industry. Studies point to 30 million baby boomers potentially entering the RV market. And that's atop eight million "RV'ers" already cruising the country in "mobile second homes." Add 4,500 RV dealers, 16,000 RV campgrounds and 1,500 mobile RV services nationwide – and Hall's co-op service centers pack plenty of expansion potential.
"But we couldn't have done this without General, specifically their J-2900™, behinds us," he said. "Their equipment offered the best bang for our buck, superb durability, reliability, appearance and economy!"
Contact the Drain Brains® at General at 800-245-6200 or by email [email protected]