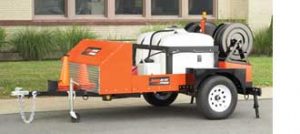 For the biggest, meanest drain cleaning jobs in Columbus, Ohio, locals trust Ron Zimmerman, owner of R&B Sewer & Drain.
R&B subcontracts drain cleaning services to nearly 30 plumbing professionals within 100 miles of Ohio's capital, and they routinely tap R&B for their most challenging drain cleaning emergencies
Storming Through Big Jobs
Zimmerman counts on durable, reliable drain cleaning and inspection solutions from General Pipe Cleaners, especially the JM-2512 Typhoon™ trailer jet.
The brawny, gas-powered water jet blasts grease, sediment, ice and other blockages from large lines and in remote locations with more features than what competitive designs offer.
With 2500 psi, 12 gpm pump for high water flow, the JM-2512 pulverizes clogs with wall-to-wall cleaning action from its hefty, 200 gallon holding tank. And its powerful 24 hp (690 cc) Honda engine ensures extended performance on stubborn stoppages. A 2-to-1 V-belt reducer extends pump life.
On-demand Vibra-pulse® helps slide the nozzle around tight bends and down long lines. Two hose reels, a 400' by 1/2″ jet hose with variable speed electric rewind and a 150′ x 3/4″ supply hose, mount next to the pressure gauge, with an output valve and guide arm on the trailer rear. Secure access to engine controls comes through a handy, lockable toolbox below both reels.
"It always works!" Zimmerman notes. "In one month alone, we used our Typhoon on at least 30 jobs."
Typhoon Saves the Day
One of those jobs concerned an elderly 87-year-old woman. An unscrupulous competitor claimed she'd need a new clean-out for $5,000.
"Our video camera spotted the real problem – roots," Zimmerman says. "And our Typhoon with Chain Saw Nozzle handled the job at a small fraction of the first company's estimate."
General's Chain Saw Nozzle rips through roots and scrapes scale off the walls of the pipe in 4″, 6″, 8″ and 10″ lines.
The latest Gen-Eye SD™ includes a self-leveling color camera that automatically keeps pictures vertical, letting viewers clearly follow camera action through lines. Key features in the lightweight, compact package include an 8″ LCD color monitor, an SD Card Reader and USB adapter for video storage, and a full keyboard for titling – all safely contained in a padded case. The Gen-Eye™ Digital Locator offers easy, accurate camera location and instant depth finding capability and completes system components.
Reputation Vital
"Almost all our equipment is General," says Zimmerman, who also owns a compact, portable J–1600™ electric water jet, brother to the popular JM-1450™, for smaller jobs in 1.5″- 4″ lines. His arsenal further sports some of the most effective drain-cleaning solutions available, including the versatile Maxi-Rooter, Mini-Rooter and Super-Vee.
R&B offers 30-day warranties on drain-cleaning jobs. They never advertise. And 100 percent of their business comes from customer referrals.
"But I can't give a warranty if I don't do the job right," he says. "And I can't do the job right if I don't have the right tools."
That's why Zimmerman built his business around drain-cleaning and inspection equipment from General Pipe Cleaners.
"General products enhance our professional image!" Zimmerman says.
Connect with the Drain Brains
Facebook – Twitter – LinkedIn – YouTube – Google Plus