Reputation, reliability and results mean a lot to Vincent "Vinnie" MacDonald's Boston-area drain cleaning business. So do the right tools.
"We tackle really tough jobs no one can handle," the Rooter-Man franchisee said. "Customers know that we combine first-rate talent with first-rate tools to solve problems — permanently. And General gives us the equipment to do just that."
For instance, two competitors couldn't clear a chronically clogged sewer line in Lowell, Mass. The job actually proved so challenging that both just walked away.
Equipment mix saves the day
MacDonald's Rooter-Man technicians came to the rescue. The New England pros diagnosed, pinpointed and solved the problem by teaming three pieces of General Pipe Cleaners equipment:
Gen-Eye video inspection/location system
Rodrunner sectional cable drain cleaning machine
JM-3000 gas-powered water jet
"We immediately determined that the long line was really packed with roots," Vinnie said. "So we used the Rodrunner to bore right through the blockage."
Weighing only 90 pounds, the Rodrunner offers plumbing and drain cleaning professionals a lightweight, powerful package capable of clearing heavy stoppages and roots in lines more than 200 feet long.
The versatile, compact Rodrunner can either be run lawnmower fashion, approaching the drain opening as the self-feeding cable screws into the line, or in tight spaces, operated in up-close stationary position.
"It gives fierce boring power, and works sludge really well in long lines," said Vinnie.
Clear the way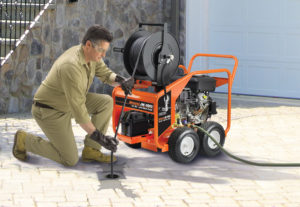 But the Rodrunner couldn't handle all of the sludge, so the Rooter-Man crew fired-up a JM-3000 water jet to clear the remaining debris for a final camera inspection.
Built for heavy use and abuse, the powerful JM-3000, part of General's Jet-Set range of gas- and electric-powered water jets, is great for clearing large lines and long runs. A reliable 13 hp Honda engine, with electric start through a 2:1 gear reducer, powers a heavy-duty, 3,000 psi/4 gpm triplex pump and extends pump life. On-demand Vibra-Pulse also helps propel the hose around tight bends and farther down long lines.
The heavy-duty JM-3000 frame holds a removable 300-foot-capacity hose reel with drag brake, reel lock and swivel mount. Superbly balanced for easy handling, the maneuverable machine also rides on four 13-inch pneumatic tires, and a wheel brake keeps it solidly in place on jobs.
"Our JM-3000 cleaned the line so we finally spotted the real problem," Vinnie said.
Quickly spot true trouble
Rooter-Man's Gen-Eye video pipe inspection system revealed that the line had actually broken and separated under the street.
"Pinpointing the exact problem led to precise repairs, fixing that unsolvable puzzle for good," Vinnie explained.
Available in various models, Gen-Eye systems offer plumbing and drain cleaning professionals everything necessary to troubleshoot 2- to 10-inch lines, including:
Self-leveling color camera
On-screen distance counter
Date-and-time stamp
Voice over unit
Built-in titler
AC/DC power option
And with General's new, easy-to-use Gen-Eye Hot-Spot digital pipe locator, professionals enjoy superb accuracy, enhanced productivity and greater reliability.
Eliminating guesswork keeps costs down, quotes competitive and customers happy for the Rooter-Man franchise. Gen-Eye solutions precisely pinpoint problems without needlessly damaging structures, driveways or landscaping trying to find breaks or blockages.
Standard operating procedure
"Lather, rinse and repeat. We do this sort of thing all the time," Vinnie said. "I've been teaming with General Pipe Cleaners for more than 30 years. It's our standard de-rooting routine."
In fact, the Boston-area Rooter-Man franchisee credits expert service and tools from General with boosting his reputation, profitability and efficiency.
"Residential or commercial jobs, we pride ourselves on permanently solving customer crises," he explained. "But we can't fix tough problems and remain profitable without the right equipment mix. And that's what General gives our business."
Contact the Drain Brains® at General at 800-245-6200 or by email [email protected]