"The society that scorns excellence in plumbing because plumbing is a humble activity and tolerates shoddiness in philosophy because it is an exalted activity will have neither good plumbing nor good philosophy. Neither its pipes nor its theories will hold water." –John Gardner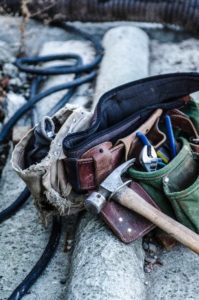 Back in the idyllic days that we now refer to as BC (Before COVID), I did a lot of traveling for my job. Several times a month I would arrange to work with one of our independent sales rep agencies in the U.S. and Canada, and we would spend time with plumbing wholesalers, plumbers and drain cleaners. One of the most common complaints that I heard while on the road was that young people were not coming into the trades. It seems that in many places in North America the average age of a plumber has migrated north of 50 years old and is still rising. I heard a lot of theories as to why young people were forsaking the trades, but no one seemed to have a rock-solid answer.
In my humble opinion, it is a perceptual problem that permeates the whole society. Look at the glamourous lifestyles of the billionaires that dominate today's social media landscape and ask, how did they make their money? Here's a hint, it wasn't plumbing. Okay, how about the thousands of influencers who are setting the fashion and lifestyle standards for their generation. Any plumbers in that group? Hardly. So, what is an ambitious young person to think? Where should they cast their aspirations when planning for their future? How should they play the cards that they were dealt?
The problem is that human beings are notoriously bad at making those kinds of decisions. We fear air travel, even though it is the safest form of transportation ever devised, and yet feel comfortable zooming down the road in our car while steering with our knees. People make bad decisions when they let their emotions set the course, and yet, this is how most choices are made. Check out any news source to find out how many college graduates, saddled with a six-figure student loan debt, are flipping burgers or working as baristas. They are light years away from living the glamorous lifestyle that they imagined when they entered college and picked their majors.
The irony is that young people have more options than ever before. The other day I spent the evening at a plumbing trade school and saw scores of apprentices enrolled in a four-year program to earn their plumber's license. According to all the master plumbers who serve as teachers for this program, after earning their license, any student should be able to make over $100,000 a year.
So, here's a tongue-in-cheek suggestion: until we can change society's perceptual problem, perhaps trade schools should advertise and hold seminars in colleges and universities. They might find an audience receptive to their message, and it might be a good way to get the word out that "the humble trades" are a satisfying and lucrative way to earn a living.
Now more than ever.