In the harsh winters of Northern Michigan, rapid response with the right equipment is critical to customers with frozen metal pipes.
"I have to work fast," Steven May, owner of Steve's Plumbing Service in Petoskey, notes. "Or my customers risk substantial damage from burst pipes!"
Excellent For Emergencies
That's why the 20-year plumbing veteran prefers the easy-to-operate Hot-Shot 400® from General Pipe Cleaners.
Weighing just 31 lbs. and generating 400 amps of power, the lightweight device safely, quickly and efficiently thaws up to 175 feet of 1-1/2″ diameter metal lines.
Just transport Hot-Shot 400 to the job, stretch out two cables, and clamp them to either end of the frozen section.  Then plug the unit into a clean, grounded 120 volt receptacle.  The unit hums, indicating a good circuit.  In minutes, Hot-Shot restores water flow to frozen metal pipes.
One recent job involved a farm house with frozen lines in a crawl space.  Immediately after arrival, May clamped his Hot-Shot 400 onto one run and, in less than ten minutes, had water to the kitchen.  Rapidly repositioning General's machine to another line, he restored bathroom flow ten minutes later.
"In less than 20 minutes I had water flowing to the whole house – with no breaks, no damage and one happy customer!" May laughs.
Results-Based Performance
Safe, effective Hot-Shot 400 warms metal pipes only enough to thaw outer ice layers.  Water pressure then melts remaining blockage.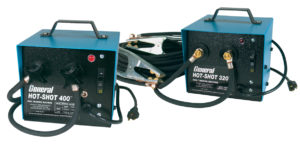 Forget tearing up floors, breaking through walls, or digging in frozen ground. And forget the liability and fire dangers of risky blow torches and welders – both of which can melt solder joints, triggering line failure.
"I like the small compact design and safety features," May says. "Hot-Shot doesn't weigh a whole lot, and it's a safe, reliable, powerful unit in a small container!"
Getting stuck on a job with only 15 amp breakers is no problem. Just flip the switch on the Hot-Shot 400 and the amp draw drops to 14 amps while the unit still delivers 320 amps of thawing power.
He also likes General's switchable output current.  "Being able to switch my Hot-Shot to a 14 amp draw makes it really handy on older residential and commercial structures, May says. "It's great for thawing boiler loops, too."
General also offers the lower-powered Hot-Shot 320® for thawing 1-1/2″ diameter lines up to 100 ft. long.
The results boost Steve May's reputation.  "I take pride in my professionalism, my experience, and my ability to do the job as quickly and economically as possible for our customers," he notes.
"Hot-Shot is fast and efficient," May adds. "Customers love it – and it brings us business!"
General Pipe Cleaners' Hot-Shot® pipe-thawing machine was selected by Rental Magazine for the 2015 Editor's Choice Award. It was chosen as a winner for the award based on several factors, including innovation, versatility, productivity and profit potential.
See the Hot Shot in action, or for more information, contact the Drain Brains® at General at 800-245-6200 or by email [email protected]