For more than 15 years, Joseph M. Telese has trusted the portability and power of his Root 66® sectiona drain cleaning machine from General Pipe Cleaners to bail him out of some tight spots. Literally. As a plumber for a massive hospital in Long Island, New York, Telese often deals with clogged roof drains, many of which are located in awkward or hard-to-reach spaces.
"When working in a hospital, stoppage problems are very time-sensitive, so you got to get it done fast," Telese explains. "That's why we grab our Root 66 first."
Telese remembers one day in which a roof drain experienced a bad backup. The situation had become so dire that water started pouring through the ceiling into a patient area.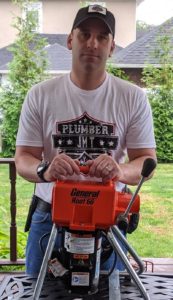 "It was in such a tight spot that a smaller snake would not have had the power to clear the stoppage," Telese says. "It was in such a bad and awkward position that the Root 66 was the only machine that could fit in that spot and also had enough power to clear the stoppage."
According to Telese, the Root 66 sectional drain cleaner not only saved the day, but also won him some major brownie points with his supervisor.
"After that, he was absolutely sold on the Root 66," Telese boasted. "He was so impressed and happy that we added it to the arsenal."
The versatility of the Root 66 is a real advance in sectional cable machine design. Contractors like Telese can use 5/8″ sectional cables to clear 1-1/2" to 3" drain lines up to125 feet long and 7/8″ sectional cables for 2" to 4″ lines up to 150 feet long. Switching cables is easy too, without touching the jaws or using an adapter or other tools. Plus, the sectional machine's light weight and compact design allows users to get bag machine cleaning power in places where bulkier machines won't fit.
"Climbing on a roof with a heavy machine is never a good idea, so being able to switch the cables without needing to retool the machine is great," Telese says. "We have a competitor's machine that we have to retool to change cables, which is a real pain, so guys go for the 66."
The Root 66 sectional drain cleaning machine has a wide four-point base for greater stability. Its interlocking tubular construction and hardened steel jaws also give it excellent durability.
"The weight of the machine is very well-balanced," Telese says. "You don't have to worry about it tipping over when you're using it, which can be a problem."
To operate the Root 66, Telese just feeds the cable into the line and slides the back end into the machine. The excess cable goes into a guide tube. After turning on the sealed motor, users just press down on the handle, and the Root 66 starts spinning the cable at 400 rpm.
"The engagement of the cable has a very good feel to it," Telese says. "It's very smooth, and if the cable gets bound up, you can release it quickly."
In addition to his work at the hospital, Telese has maintained a side business for more than 20 years. And for most of those years, his Root 66 has been at his side. One job from the past that sticks out in his mind involves a nasty mainline stoppage that went from a house to a cesspool.
"It was a very old house from the 1800s, and there wasn't much access to the waste line cleanout," Telese remembers. "It was behind a whole bunch of bushes behind the house."
While Telese had a bigger machine on the truck, the larger machine's size was not able to get around the house and work safely. Once again, Telese was able to get the job done with ease, thanks to his compact and easily portable Root 66.
"The machine had enough power and was small enough that we could sneak behind the shrubberies of the house, clear that mainline stoppage and pull the roots out with a root cutter," Telese says. "The size and the power of the Root 66 really did the trick!"
For more information, contact the Drain Brains® at General at 800-245-6200 or by email at [email protected]. Get all the details on our Root 66 sectional drain cleaner right here, then find out where you can purchase one near you on our Where to Buy page.