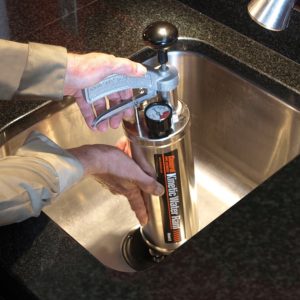 An innovative hand-held drain cleaner from General Pipe Cleaners is helping Pro-Tech Drains of Lachine, Quebec, maintain its competitive edge — and boost its profitability.
The lightweight, compact Kinetic Water Ram® safely, quickly and cleanly clears clogged sinks, toilets and tubs with the power of compressed air.
But when he first saw it, President Alain Breton branded the chrome plated device a "gadget".  "It looked like a science-fiction ray gun," he recalls. "We never saw anything like it."
But impressed by the reliability, durability and performance of all his other General equipment, Breton relented.  "We always 'test-drive' equipment before purchasing," he said. "So our distributor let us borrow one for our next couple jobs."
Easy-To-Use Tool Immediately Meets Business Needs
One of Breton's crews immediately tried the Kinetic Water Ram on a routine clogged bathtub drain.
"We just read the package instructions, and it worked the very first time," Breton says. "It's really easy to operate."
Using the build-in gauge, Pro-Tech Drains simply pumped the Kinetic Water Ram to the desired pressure.  The tool can produce up to 160 pounds of pressure, but most clogs can be cleared with just 20 to 40 pounds.  Then with overflows plugged to prevent splash back, the technician firmly positioned the flexible cone over the drain opening and snapped the trigger — instantly clearing the clog.
"We thought it was a fluke," Breton chuckles. "So we tried it on our next job — a definitely more demanding floor drain blockage.  And it worked again!"
Pro-Tech's founder was so impressed that he immediately drove to his distributor and bought one Kinetic Water Ram for each of his crews.
Clean & Fast On Commercial Or Residential Jobs
General's innovative Kinetic Water Ram unleashes a powerful burst of compressed air.  The resulting shock wave hits water like an air hammer, travelling through water at 4,700 ft./second — instantly breaking up the stoppage.  The Kinetic Water Ram easily clears rust, grease, sediment and scale from lines up to 4″ in diameter.
The shock wave also bypasses stacks and vents.  There's no pressure build-up within the system, either.  General's tool directs 98% of the force down the line and only 2% against pipe walls.  So the Kinetic Water Ram effectively handles stoppages on the far side of drum traps or series of tight bends — like lines in a trailer home.
That's critical, Breton contends.
"We do a lot of fixed-rate commercial contract work," he says. "So speed is important to maintaining our profitability: the longer we take, the less we make."
One regular Pro-Tech account — a large pastry shop — developed a third-floor grease clog that loosened, traveling to an inaccessible portion on the building's ground level and backing-up a large, 30-gallon sink.
"With a cable machine, we would have spent 15 minutes just bailing water before starting.  But since the Kinetic Water Ram works right through standing water, we just pumped-up the unit and blasted the blockage away."
Breton points out that sort of performance considerably enhances his profitability with apartment facilities.
"We can service a 32-unit building in less than half the time it takes us to do the same work with cable machines — and it's a lot cleaner, too!  Managers and residents love it."
"Ray Gun" Look Promotes Business
Pro-Tech Drains uses shopping mall promotions to boost its business.  And the physical appearance of the Kinetic Water Ram draws a lot of attention to Breton's services.
"The 'Ray Gun' look really draws crowds!" Breton says. "People see this shiny metal tool, and it gives us a fantastic entre to discuss our services with them."
In fact, Pro-Tech president Breton is so impressed with gleaming look of General's Kinetic Water Ram, that it's the only tool he places his company's promotional sticker on.
"I really love GENERAL cable machines.  But the Kinetic Water Ram stays clean and neat — really showcasing our professional image.  Customers don't expect people working in drains to have futuristic looking tools like this!"
Versatility & Performance
The Kinetic Water Ram™ comes with a flexible cone for 1-1/4″ to 4″ diameter lines, caulking hose, and five tapered valves for sealing openings from 1-1/4″ through 4″.  A Schraeder valve for use with an external air compressor when clearing difficult blockages is also provided.
An optional toilet attachment screws onto the front of the Kinetic Water Ram, permitting firmer positioning in the bowl and performing like a powerful plunger.  Additional options include a carrying case, 6″ rubber cone, expansion plugs, faucet adapter, water supply hose, and check valve.
The Bottom Line Is The Bottom Line
"We get more jobs done faster with the Kinetic Water Ram", Alain Breton concludes. "It's clean and efficient.  It brings us business.  Customers love it.  And our profitability — c'est magnifique!"
And that's good news in any language.
See the Kinetic Water Ram in action, or call the Drain Brains® at General at 800-245-6200 for more information.