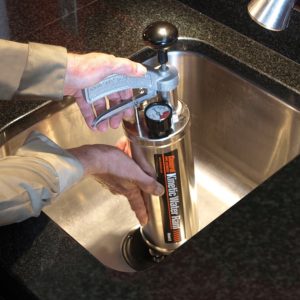 "It takes longer to write-up the bill than to unclog a drain with that tool."
That's how Dale Smith describes the Kinetic Water Ram® from General Pipe Cleaners.  The lightweight, compact device safely, quickly and cleanly clears clogged sinks, toilets and tubs with the power of compressed air.
It's also given Smith a clear competitive edge.
In just 5 years, the owner of D. Smith Plumbing Services in rural Jayess, Mississippi, forged a matchless reputation for highest ethical and professional standards.
"I operate 'on-call, 24-7'," Smith says. "I solve customers' problems when they need help – not when it's convenient for me."
Boosting Professionalism & Productivity
That's why he values the quick, effective, easy-to-operate Kinetic Water Ram.
"When several people call you early in the morning or late at night, you can't afford to spend 3 or 4 hours at each place," Smith says. "The Kinetic Water Ram lets me do multiple jobs daily – with time to spare."
He pumps General's Ram to the desired pressure, plugs the overflow to prevent splash back, and firmly positions the flexible cone over the drain opening.  One snap of the trigger unleashes a powerful burst of compressed air, instantly clearing clogs.
The resulting shock wave bypasses stacks and vents.  There's no pressure build-up within the system, either.  Kinetic Water Ram directs 98% of the force down the line and only 2% against pipe walls.
A typical customer called Smith to clear a long-standing kitchen sink clog.  "I snaked that line all the way into the septic tank – with no luck," Smith recalls. "So I grabbed the Kinetic Water Ram, pumped it up, and blasted the blockage clean away!"
General's innovative tool handles stoppages on the far sides of drum traps or series of tight bends – like lines in trailer homes.  And while it generates up to 160 pounds of pressure, most blockages clear with just 20 to 40 psi.
Dale Smith calls it "amazing" on bathtubs.  "I've cleared hundreds – many with old-fashioned lever-actuated stoppers that prevent me from using a cable machine," he says. "The Kinetic Water Ram handles them all."
Compact Design Scores Points
Smith really values the tool's portability.
"In the past, I've snaked through roof vents to clear clogs," he says.  That meant dragging a heavy, awkward cable machine to the roof.  "Now I can handle most jobs with my lightweight Kinetic Water Ram."
General's product comes with a flexible cone for 1-1/4″ to 4″ diameter lines, caulking hose, and five tapered valves for sealing 1-1/4″ through 4″ openings.  A Schraeder valve for use with an external air compressor on difficult blockages is also included.
An optional toilet attachment screws onto the front of the Kinetic Water Ram, permitting a tight seal in the bowl – like a powerful plunger.  Additional options include a carrying case, 6″ rubber cone, expansion plugs, universal faucet adapter, water supply hose, and check valve.
"I got as much business as I can handle," Smith concludes. "The Kinetic Water Ram makes me the '9-1-1' of Mississippi plumbers!"
For more information, contact the Drain Brains® at General at 800-245-6200 or by email [email protected]