"Guests with clogged drains deserve prompt service – day and night," James "Rob" Hoelscher, property manager of Colorado Bear Creek Cabins, declares.
Rob and his wife, Susan are co-owners of the business. And the Hoelschers never skimp on service standards or speed. Staff react professionally and immediately to every problem.
"Our maintenance tools must likewise perform on demand," Rob continues. "That's why General's hand-held Power-Vee anchors our drain cleaning tasks."
Rapid Response Vital
Located 35 miles west of Denver in scenic Evergreen, Colorado, Colorado Bear Creek Cabins offers a range of "comfortably rustic" lodgings to skiers, nature-lovers, and travelers who simply want to "get away" since 1947.
The business is a family affair. Rob, Susan, and sons Oliver and Samuel live close-by, and work on-site – ensuring peak customer response.
"We never resolve problems over the phone," Rob insists. "We're not absentee owners!"
Critical To Everyday Maintenance
"Most of our drain cleaning work is done indoors – under sinks and inside cabinets," he adds. "And the compact, maneuverable Power-Vee proves perfect for that."
Ideal for small-line stoppages, the rugged, reliable Power-Vee small-line drain cleaner from General Pipe Cleaners easily unclogs sink, tub, toilet, and laundry lines 1-1/4" to 3" in diameter – and up to 50 ft. long.
Its automatic feed makes clearing small drain lines faster and easier than using manual methods. And General's simplified feeding system acts like "an extra hand" in tight and awkward work spots.
Simplicity Speeds Service
It's easy-to-use, too.
The Power-Vee holds 50 ft. of 1/4" or 5/16", or 35 ft. of 3/8" Flexicore cables. And General's Quick Change Cable Cartridge system makes swapping and switching different cables and diameters quick and simple.
Changing takes less than a minute – and turns potentially messy jobs into quick, clean ones.
Flexicore Advantage
To switch to a different diameter Flexicore cable, just loosen three screws, pull off the front of the drum, and load another cartridge.
Flexicore cables are the industry leader. They're manufactured of heavy gauge wire coiled tightly around 49-strand aircraft-type wire rope for unequaled strength and optimal flexibility. Flexicore is so tough it carries a one-year warranty against defect or breakage.
"Flexicore is impressive!" Rob beams. "It exudes exceptional engineering and manufacturing!"
Forget "Popeye Forearms"!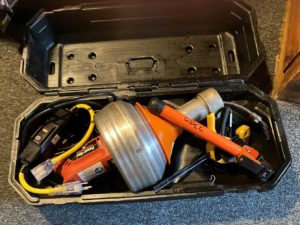 When working in tight spaces, even hand-held, powered drain cleaners can strain muscles.
That's why the maintenance crew of Colorado Bear Creek Cabins teamed the Power-Vee with the new Uni-Stand™ from General.
"No one in this family wants 'Popeye forearms'," Rob chuckles. "It's a game-changer for how we use our Power-Vee!"
Just slide the Uni-Stand clamp around the motor housing – and lock it into place for safe, solid support. Then change the Uni-Stand adjustable leg length to the desired height – and begin drain cleaning.
Rob calls it the "perfect accessory" for his Power-Vee.
"Uni-Stand is simple, sturdy, perfectly sized, and exceptionally well designed and built," he maintains. "The strap and adjustment system are amazing, and its ingenious single-leg support provides maximum maneuverability."
Oliver Hoelscher using Power-Vee® and Uni-Stand™ in a "typical setting of drain clearing" at Colorado Bear Creek Cabins (as pictured in featured photo). "Before getting Uni-Stand, it was a two-person job," his dad Rob Hoelscher notes. "I'd start, exhaust my strength, then Oliver would take a turn." Sometimes, Rob adds, "several iterations of this procedure were necessary to clear the line. Uni-Stand has transformed this operation to a one-person effort!"
Environmentally Responsible Tool Maintenance
"Our cabins are on a septic system," Rob resumes, "And since everything eventually flows to Bear Creek, an outdoor water body, we strive to ensure the optimal operation of our septic system, and minimize our impact on this precious water body."
That's why Colorado Bear Creek Cabins treats drain cleaning tools with Snake-Oil Plus™ from General.
Snake-Oil Plus features the same rust-inhibiting properties and pleasant lemon scent of original Snake-Oil Classic™. Its non-toxic, eco-friendly, biodegradable formula also creates virtually non-stick surfaces – keeping mud and debris from sticking to cables, drums, and machines, significantly extending drain cleaning equipment life.
"It's part of our business ethos – and our business identity," Rob asserts. "Colorado Bear Creek Cabins is literally located on a creek!"
Better than common lubricants, Snake-Oil Plus also features a special rust inhibitor that cuts through moisture, replacing it with a rust-resistant coating. Machine bearings, feeds, and moving parts last longer. And its deodorizer keeps drain cleaning tools smelling fresh and clean.
The Bottom Line
Other "intangibles" also matter to Rob Hoelscher.
"General's 'American-made' products also makes a big difference," he concludes. "Like us, they're also a family business. Customer service is superior. And you can see high-quality standards in everything they do!"
Just like Colorado Bear Creek Cabins!
For more information, contact the Drain Brains® at General at 800-245-6200 or by email at [email protected]. Learn more about Power-Vee and see more of our hand tools for drain cleaning & clearing. When ready to purchase a long-lasting, durable tool from General, please visit our Where to Buy page to find the distributor nearest you!