Gen-Eye Gen-Pack™ Sewer Camera Battery Adapter
Cut the Cord and Keep Working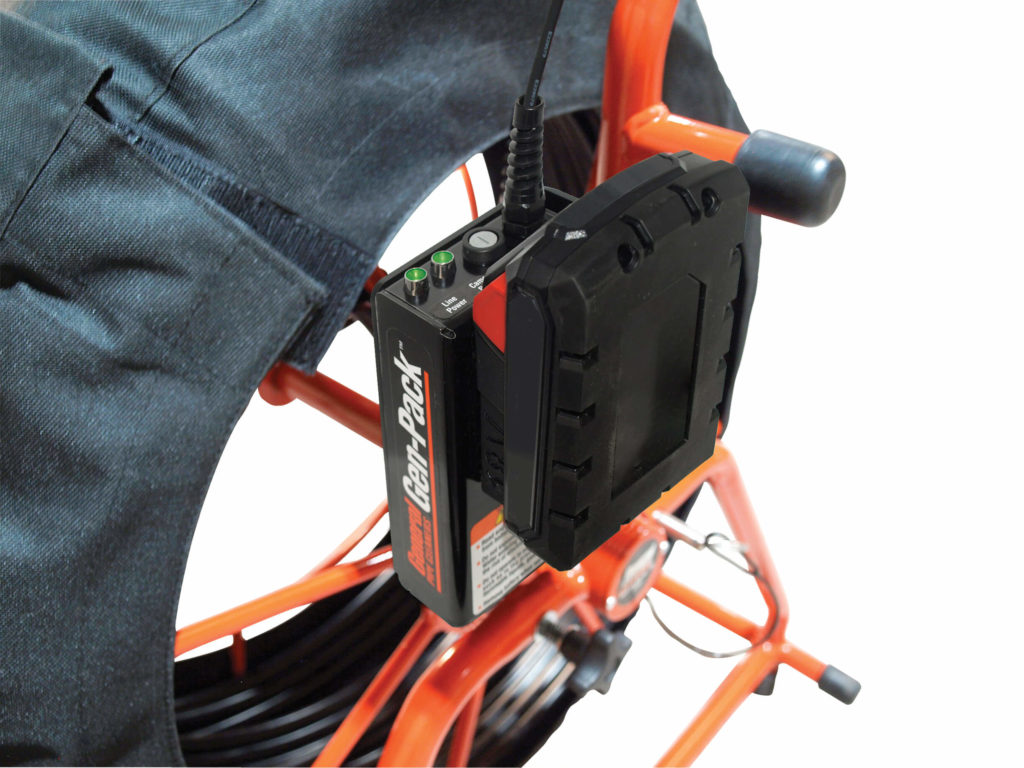 The Gen-Pack™ Battery Adapter lets you operate your sewer inspection camera system in remote locations where access to power is limited. It adds portability and versatility – and makes jobs easier! 
Depending on battery type and system settings, you can run General's Gen-Eye POD® or Gen-Eye X-POD® camera systems for up to 12 hours with the Gen-Pack. The battery adapter is fuse-protected to safeguard your investment. Compatible with Milwaukee M18 battery or equivalent. Battery and charger not included. 
The Gen-Pack battery adapter easily mounts to General's Gen-Eye POD and X-POD – both full size and mini-reel versions. Just clamp it to the frame – and plug the cord into the camera power input. You're ready for remote operation in minutes.
Add the Gen-Pack to the Gen-Eye POD®. Easy to move, easy to use, and easy on budgets, the lightweight, compact sewer camera includes integral Wi-Fi to record and share inspections on tablets and smartphones. 
Add versatility to your Gen-Eye X-POD® with the Gen-Pack. It features a powerful Command Module with USB port to record video inspections on flash drives. It also includes a 7" LCD color monitor, one-touch recording, digital zoom, voice-over recording, and more. 
Use the Gen-Pack with the GN-PK-110 power cord adapter to power Gen-Eye SDN® or Gen-Eye USB® systems that don't have the battery option built-in. You can record on SD card or USB flash drive, watch inspections on a large 10.4" LCD color screen, add titles and commentary to recordings with the waterproof keyboard and voice-over microphone. Protected by a heavy-duty Pelican case.
Features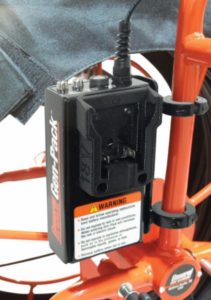 • Allows for inspections at remote locations with limited access to power 
• Can operate up to 4.5 hours with 2Ah battery, up to 12 hours with a 5Ah battery.  
• Fuse-protected to safeguard your equipment investment. 
• Compatible with Milwaukee M18 batteries or equivalent. 
• Battery and charger are not included. 
Specifications
Dimensions:
6.25" (16 cm) High
5" (12.7 cm) Wide
3" (7.6 cm) Deep
Weight:
2 lbs. (.9 Kg)
Mount:
Two clamps mount Gen-Pack to any Gen-Eye GL reel.
Input:
Accepts Milwaukee M18 battery or equivalent (Battery not included)
Output:
15 Volts DC. Power Cord for Gen-Eye POD and X-POD systems included. Optional GN-PK-110 adapter required for use with Gen-Eye SD and USB systems. 
Fuse:
3 Amps
Estimated Battery Life*:
4.5 hours with 2Ah battery
12 hours with 5Ah battery
*Based on optimum conditions.
Do You Need Help?
Check out our Pro Tool Selection Guide or chat with a Drain Brain! We can help you by answering any questions about our products you may have.