In this series on how to NOT break your stuff, we've talked about how your attitude towards the job, as well as the quality and type of equipment that you use, can affect the longevity of your tools. Contractors who are patient and careful on the job and who practice preventative maintenance after the job tend to break their stuff less often. And, investing in more durable equipment pays off in longevity. In this blog post, we're going to discuss taking better care of your cutters.
We have found over the years that people tend to use too large a cutting tool for a job, and this can lead to lost and broken cutters as well as kinked drain cleaning cables. We recommend starting with a smaller cutter, perhaps a spearhead or arrowhead cutter, or one of General's ClogChopper drain cutters, which will navigate the twists and turns of the pipe and at least poke a hole through the obstruction.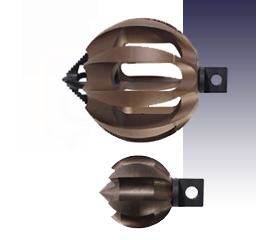 More Information
When you get the water moving again, then you can go down the drain with a larger cutter, perhaps a U-cutter or side cutter blade to scrape the sides of the pipe and finish the job. If you think that the obstruction may be due to a root incursion, begin with a saw blade that is considerably smaller than the diameter of the pipe as your initial root cutting tool.
Again, after you get the water moving, then go back in with a larger saw blade to finish the job. By starting small, you can do a better job, reduce the number of cutters that you break, and preserve the life of your drain cable at the same time.
Did you enjoy this post? Be sure to check out parts one, two, three and four!
For more information, contact the Drain Brains® at General at 800-245-6200 or by email – [email protected] You can also communicate with us by using our handy form too. Please visit our Where to Buy page to locate a distributor near you to purchase these fine cables & cutters for your clog-busting needs.