In this series on How to NOT Break Your Stuff, we've talked about how your attitude towards the job, as well as the quality and type of equipment that you use, can affect the longevity of your tools. Contractors who are patient and careful on the job and who practice preventative maintenance after the job tend to break their stuff less often. And, investing in more durable equipment pays off in longevity. In this blog post, we will discuss how to protect the pushrods for your sewer camera systems. Because of how expensive they can be to repair, learning how to safely use your pushrod can have a huge impact on your bottom line.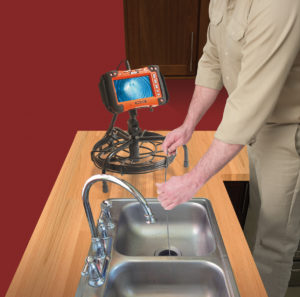 There are two main ways that pushrods get damaged. First, they can be cut, scraped or suffer abrasions, similar to a jetter hose, as discussed in our last installment. Although the outside coating on most pushrods is much tougher than a jet hose, we see cuts and slices in our repair shops all the time. These cuts and abrasions can lead to bigger problems that can be quite expensive to repair. To avoid cutting or slicing your pushrod, always make sure that the operator has eyes on the monitor. Do not push the sewer camera head past any jagged pieces of damaged pipe or sharp obstructions. Keeping your eyes on the monitor will also cut down on damage to camera heads due to smashing them into solid obstructions in the pipe. Do not use your camera diagnostic system as a drain cleaning tool! Also, remember to use the same adjustable plastic sleeves that we sell for our sewer jetters to give your pushrods access into the pipe.
The second major way pushrods can be damaged is by kinking. A kinked pushrod usually requires a re-termination to repair, which can be anywhere from $200 to $500. Kinking is usually the result of forcing a pushrod down the line. We recommend using short fast motions instead of prolonged pressure in order to bounce pushrods around bends. Keep one hand low, close to where the pushrod is entering the pipe. And most importantly: slow down! Keep your eyes on the sewer camera monitor, don't force and slow down.
These are the lessons that we hear time and time again from contractors who never break their equipment.
Did you enjoy this post? Be sure to check out parts one, two, three and five!
For more information, contact the Drain Brains® at General at 800-245-6200 or by email – [email protected]. You can also communicate with us by using our easy Contact form too. See all of our cutting-edge sewer camera systems for plumbing diagnostics on this page. And visit our Where to Buy page to discover where you can purchase General's sewer & pipe inspection camera systems for your pro plumbing business.