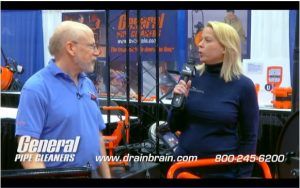 At the Water and Wastewater Equipment, Treatment and Transport Show, the world's largest annual trade show for environmental service professionals, General Pipe Cleaners' Marty Silverman spoke with COLE Publishing about its line of Jet-Set water jet drain cleaners.
In the video, Silverman talks us through a number of General's trusted water jet drain cleaners, including the JM-1450, JM-2900, JM-3055 and JM-3080.
General's water jets are ideal for clearing soft stoppages and ice from clogged drain lines. They use a stream of high pressure water that hits the stoppage and flushes it away. The thrust of the nozzle drives the hose down the line and gives you wall to wall cleaning action. You'll find plenty of uses for General's jetters – in restaurants, hotels, hospitals, shopping malls, factories and septic systems. General's Jet-Set gives you new weapons to use on some of your toughest stoppages.
To read more about what Plumbermag.com  had to say and see General's water jets up close, click here.
Connect with the Drain Brains
Facebook – Twitter – LinkedIn – YouTube – Google Plus