Rescue Wrap® Extends the life of pipe inspection camera push rod


Rescue Wrap acts as a splint and protective layer for partially kinked, fatigued or worn sections of pipe inspection push rod. Specially formulated for pipe inspection push rod, the Rescue Wrap can be applied on a job site or in your shop.
Strengthen weak sections of push rod before the rod fails. In slightly less than an hour, you can have your push rod back on the job. No need to lose lengths of push rod to a repair or re-termination.
Rescue Wrap gives you the confidence to save rather than eliminate push rod. Weak areas of push rod can be reinforced at the same time as performing re-terminations or other repairs.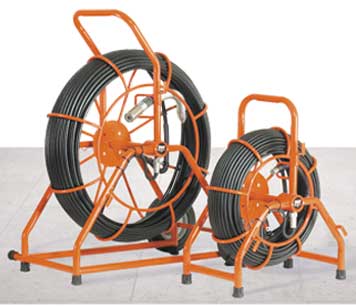 Rescue Wrap provides an affordable means to prolong the life of the push rod before replacement becomes the best option.
When applied properly, the Rescue Wrap will:
Strengthen a weakened section of push rod that would other- wise have been expected to fail.
Extend the life of a worn push rod.
Each package contains:
One fiberglass strip, mixing pouch, and rubber gloves.
It will not repair a severe kink where the internal fiberglass push rod has been completely broken or when the electrical wires have been damaged.
Buy Now
Rescue Wrap
| Item # | Catalog # | Description | Weight | |
| --- | --- | --- | --- | --- |
| 190570 | RWP | Rescue Wrap | 0.5 lbs | |
Do You Need Help?
Check out our tool selection guide or chat with a Drain Brain! We can help you by answering any questions about our products you may have.