Gen-Eye Micro-Scope2® Inspection Results In A Flash!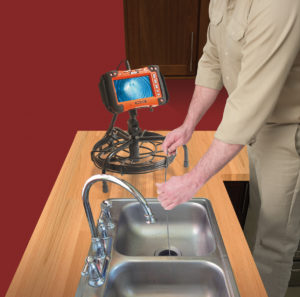 The Gen-Eye Micro-Scope2® compact, handheld pipe inspection camera tool features a new Command Module that includes a USB port to record on a flash drive. You can watch the action on a big 7" LCD color monitor for crisp, clear pictures and record videos or photos on the flash drive with the one-touch record button.
The Micro-Scope is packed with other great features like 4X digital zoom, picture rotate and mirror image buttons, voice-over recording, date and time stamp, and LED Dimmer Control. The internal battery lets you record remotely for up to 4 hours. On-screen status indicators include flash drive capacity indicator and battery strength indicator.
The lightweight, compact reel carries 100 ft. of micro push-rod with a color camera, giving you the ability to inspect 1-1/2" to 3" drain lines and many toilet traps.  The adjustable mount on the reel let's you set the monitor to the best viewing angle, wherever you're working.   
The Command Module also includes a 3 ft. Probe-Rod with color camera for inspecting hard to reach places. Three adapters are included to improve your viewing angle or to retrieve objects.
FEATURES
7" LCD screen for crisp clear pictures

One-touch recording of video or photos

Left hand or right hand operation for video and photo buttons

USB Recording Drive – Can handle up to 64GB Flash Drive

Flash Drive can be used on any computer with USB port for viewing for sending files

Easy playback of video or photos on monitor

Internal battery – lasts up to 4 hours

Digital Zoom increase picture size X4

Picture rotate and mirror image buttons

Internal microphone and speaker for voice-over recording


On-Screen date and time indicators

On-Screen USB Flash Drive capacity indicator

On-Screen battery strength indicator

Hand straps on the monitor for handheld operation

Kick stand on back of monitor for hand-held operation

Built-in Sunshield for outdoor use protects the screen when closed

Includes 3 ft. Probe Rod, 3 pc. Adapter kit, AC and DC power cords, 8 GB Flash Drive, and carrying case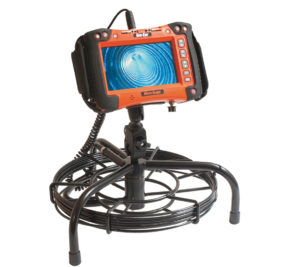 Protect your investment
Heavy-duty carrying case neatly contains Micro-Scope Command Module, probe-rod, attachments, cables, and accessories.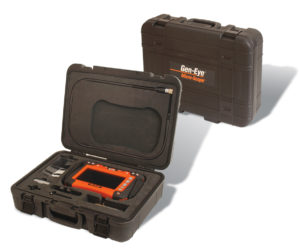 3 ft. Probe-Rod
The Command Module also includes a 3 ft. Probe-Rod that lets you inspect hard to reach places, like duct work, furnaces, crawl spaces, and more.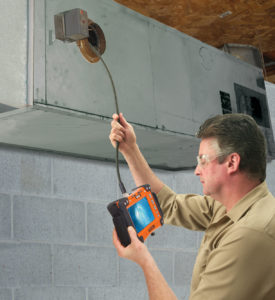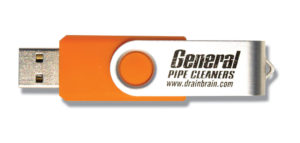 USB Port
Record video or still images on flash

drive. Can handle up to 128 GB flash drive.
Digital Zoom
Increases picture size 4X.
Picture Rotate
Rotate and mirror image buttons.
Built-in voice over recording
Internal microphone and speaker lets you add commentary to your videos.
Built-in AC/DC converter
Allows you to operate in the field with truck power alone.
Heavy-Duty Case
Protects LCD screen, electronics, and your investment.
Buy Now
Gen-Eye Micro-Scope2® Packages
| Item # | Catalog # | Description | Weight | |
| --- | --- | --- | --- | --- |
| 117800 | GM-A-2 | Micro-Scope Handheld Command Module, with 7" LCD monitor, 3 ft Probe Rod and Color Camera, 3 Probe Attachments, 8GB Flash Drive, AC & DC Power Cords, and Carrying Case. | 11 lbs | |
| 184550 | GM-G-2 | Micro-Scope Command Module with Open Reel, 100 ft. Push Rod, 3 ft Probe Rod and Color Camera. | 24 lbs | |
Accessories
GM-100-2:
Reel w/100 ft. of Micro Push-Rod and Color Camera
GM-502:
Extender Clamp
GM-CPR:
3 ft. Camera Probe-Rod
PRA-1000:
3 pc. Attachment Kit
Specifications
Line Capacity
1-1/2″ to 3″
Reel Capacity
100 ft.
Probe Rod
3 ft. Extensions Available
Push-Rod Diameter
Push-Rod: .200″
Probe-Rod: .400″
Camera Dimensions
Push-Rod: 1″ x 1.38″ L
Probe-Rod: .425″ x 1.15″L
Sensitivity
.5 Lux
Lighting 
Push-Rod: 12 White LED's
Probe-Rod: 6 White LED's
White Balance
Auto High Speed
Reel Dimensions
17″ L x 16-1/2″ W x 7-1/2″ H
Command Module Dimensions 
10″ W x 7″ H x 2.75″ D
LCD Monitor Size
7″
Video Format
NTSC or PAL
Power
110v/60Hz AC, 12 VDC
Operating Temperature
14° F to 122° F
-10° C to 50° C
Do You Need Help?
Check out our Pro Tool Selection Guide or chat with a Drain Brain! We can help you by answering any questions about our products you may have.